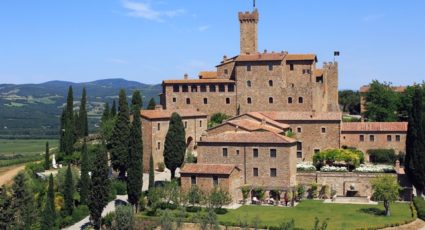 Banfi is named after Teodolinda Banfi, a woman of eclectic taste who served as head of the household staff of the late Pope Pius XI, a distinguished post as the first layperson ever to hold. Greatly influencing his nephew John Mariani, Sr., he established Banfi in New York in 1999, which focused on the production and import of wine.
Banfi Vintners is the sole U.S. importer of the Mariani family's internationally renowned wine estates in Italy — Castello Banfi of Montalcino, Tuscany, while Banfi Piemonte of Strevi, Piedmont — as the exclusive agent for the family's domestic properties from the Northwest: Pacific Rim, Rainstorm, Silver Totem and Thick Skinned. Banfi is also the importer of Natura wines, from Emiliana Organic Vineyards in Chile.
Castello Banfi is Tuscany's most honoured vineyard estate, with award-winning wines exported to over 90 countries around the world. It is the first winery in the world to be awarded international recognition for exceptional environmental, ethical and social responsibility, as well as an international leader in customer satisfaction.
Dr John Mariani, the second generation of Banfi was honoured with Wine Enthusiast Magazine Lifetime Achievement Award in 2008, an annual wine star awards recognising excellence in the wine and spirits industry. Currently, Banfi is now in the hands of Cristina and James Mariana.
If you love Italian wines, view our Banfi wines that might suit your palate. There are much more to learn about this Italian-American wine business here.