"Wine + Flowers" … A Match Made in Heaven?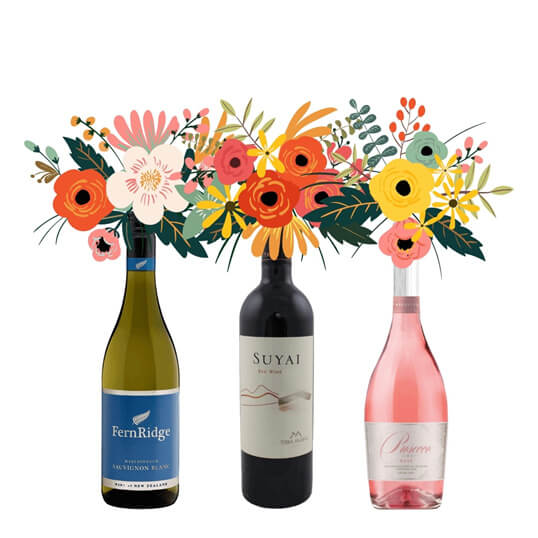 The aromatic qualities of wine are known to some. But what happens when you combine the appreciation of the scents of dainty flowers and wine? As our latest and possibly never-before workshop in Singapore, Asia Wine Network presents to you an all-new workshop called "Wine + Flowers"!
So why did we decide on this unique combination for our newest workshop? Let's find out!
You will be immersed in a huge aroma bomb!
We are serving a special "wine flights" of 3 selected wines with 3 different distinguished aromas from 3 different wine countries – both "new & old world" to all participants. After the wine appreciation & guided wine-tasting by our wine expert, you will be immersed in the amazing aromas of fresh flowers in the hands-on workshop! With an irresistible combination of both floral and wine notes, you will be in for a sensory treat.
It's a great way to bond with your loved-one.
There's a reason why we termed our workshop as workshop with "DUO FUN"! Mother and daughter, wife and husband, boyfriend and girlfriend … bring anyone! Be prepared to bond with your loved-one (that you chose to bring along) as you participate in our workshop! Spend a lovely afternoon appreciating fine wine and discovering a new craft!
You will absolutely love what you take home!
At the end of the workshop, we promise that you will take home a stunning centrepiece bouquet that will be the talk of your house-guests for weeks to come and an incredible Prosecco that will tantalize the tastebuds and sparkle your evening with your loved ones! From this amazing workshop, you will gain new skills to put together the perfect gift (both Wine + flower) for any special occasion, be it an upcoming birthday or even mothers' day!
Un-believable full package deal:
Wine Flight: 3 glasses of internationally recognised wines are included! From the famous wine regions of Chile, Italy and New Zealand.
Field Experts: The flower arrangement part of the session is taught by a talented florist and the wine flight is guided by an internationally renowned wine-specialist!
Bring It Home: Bring your beautifully crafted bouquet around a bottle of Prosecco to take home and impress your loved ones!
Vouchers: Enjoy a $20 voucher to spend on wines from AWN (online) and a $15 voucher for Wen's Floral Studio.
Find out more : https://www.awn.com.sg/our-products/flower-wine-session.html
See you all at our newest event.